Complete adult site package for Adult Entertainers and Producers.
Have your adult site hosted and set up from start to finish on your own high speed Virtual Private Server.
XComplete includes the following:
Worldwide Server Locations
★ Custom Website Setup
★ Pro Video/CDN Installation
★ ADULTX™ WordPress Theme
★ ADULTX™ VPS
★ Hourly Site Backups
One-time: $1,157
Monthly recurring: $49

Latest Update: 2021-10-22  | Version 9.0



No coding skills required.
Start your adult site on your own high speed server with ease. Save weeks of valuable time by having us set up your website completely according to your wishes.
Custom setup of bunny.net's pro video/CDN integration including: resolutions upon upload, custom thumbnails, watermark option, anti-piracy security and fast worldwide delivery. Incl. site CDN.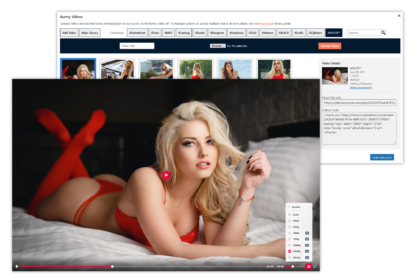 Frequently Asked Questions
What are the server specifications?
Specifications for 1 VPS instance:
1 CPU
50GB Storage*
2GB RAM
Daily Server Backups

Hourly Site Backups (for 1 website)

Software package:
Nginx
PHP 8.0
MariaDB 10.4
Redis Object Cache
FastCGI Page Cache
SSL Certificate
UFW (firewall)
Fail2ban (brute-force protection)
Your server will be a lot faster than any standard hosting, even without caching and speed optimizations. The caching systems make it possible to handle large amounts of concurrent visitors.
*50GB is enough disk space for most users, since videos will be hosted and delivered externally via the bunny network.
What can I expect after I place my order?
A follow-up email with detailed information will be send to your email address after placing your order.
Your server will be started up from your preferred location and the latest WordPress-optimized software will be installed. Including fast caching systems and professional security measures. We update the server software regularly.
When the server installation has completed, WordPress will be installed and any ADULTX™ demo of your choosing can be imported.
This is a summary of what you can expect when purchasing an XComplete package:
Integrating your logo and icon: header, galleries, emails
Custom website style: general colors, fonts, grids, checkout page style, header style
Optional homepage slider or video element
Custom content restriction setup
Custom subscription plans or shop setup
Adding some provided content (posts, pages)
Contact form setup
Multiple example posts for videos and galleries
Bunny Video Delivery: api setup, player custom color, resolutions setup, optional watermark, security
Website CDN setup
SMTP email setup (used for email sending via contact form and orders)
Website SEO (Search Engine Optimization)
Google Search Console and Google Analytics (optional)
Speed optimizations (server-side caching and on the site itself)
Payment processor setup assistance
Professional guidance from start to finish
Support in the future if ever needed
Your adult site will be set up completely according to your wishes.
We test any website thoroughly, so that everything is set up 100% correctly and so that you can start your new adult site happily without any effort.
How about video delivery and CDN?
ADULTX™ comes with professional video integration and worldwide delivery via the bunny.net video API.
The integration enables users to upload videos from their WordPress admin panel and display them through the professional video player on their website's in the most easy way possible. On upload the videos are automatically transcoded into multiple resolutions and replicated all over the world via bunny's fast CDN network.
Additionally, website content like CSS, JS and images are also delivered via the same CDN network.
When we set up your website, we make sure that your videos are protected and can be accessed from your domain only.
bunny.net offers their video service and CDN at affordable pay as you go pricing.
How will my purchase show up on my credit card bill?
We've made sure that no adult related words will show up. Instead a non-adult statement descriptor will be used.
(bunny.net has it's own affordable pay as you go pricing for video storage and worldwide content delivery)